Tell President Trump and Congress to Do Right by Puerto Rico and its 3.4 Million American Citizens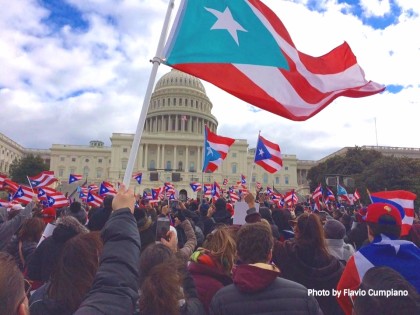 It has been more than two and a half months since Hurricane Maria devastated Puerto Rico, crippling an electrical grid that is still not generating power at full capacity. Puerto Ricans are struggling to return to normal life. Without Federal support Puerto Rico will not recuperate. The Administration and Congress need to make the recovery and reconstruction of Puerto Rico a priority.
December 4th – 8th has been designated as a National Week of Action for Puerto Rico. During this period and the following weeks Congress will consider legislation that has the potential of crushing or lifting Puerto Rico.
The National Puerto Rican Agenda has launched a national letter drive to ask President Trump and Congress to immediately take constructive measures that will impact the lives of 3.4 million American citizens in Puerto Rico and their 5.5 million Puerto Rican relatives living in the 50 states.
Please join us in our campaign to save Puerto Rico by sending the following letter which will be automatically addressed to the President and your Congressional delegation. #Action4PR #RebuildPuertoRico #PuertoRicansAreAmericansToo #MariaPR
Dear U.S. Senators and U.S. Representative and the President:
It has been more than two and a half months since Hurricane Maria devastated Puerto Rico, crippling an electrical grid that is still not generating power at full capacity. No one knows for sure how many people have electricity in their homes, how many buildings and roads were damaged, how many businesses have closed, or even most importantly, how many people died because they did not have access to medical care after the hurricane.

What I do know is that Puerto Rico is at the mercy of my Federal government. Congress has not done enough to help Puerto Ricans resume normal life. Puerto Rico is still in the early stages of recovery and the Administration and Congress must ACT NOW.

During the next several weeks Congress will consider legislation that has the potential of crushing or lifting Puerto Rico. As an American voter and taxpayer, I ask that you pass legislation that achieves the following.

Tax Reform

On tax reform Congress must do no harm to Puerto Rico. New tax legislation presently considered by Congress must not levy a 20 percent excise tax on goods manufactured by subsidiaries of U.S. corporations in Puerto Rico; must not tax 12.5 percent of income from intellectual property held by U.S. corporations in Puerto Rico; and, must not stop U.S. corporations operating in Puerto Rico from deducting local Puerto Rico taxes from their Federal tax returns.

These provisions would force U.S. companies operating in Puerto Rico to move to countries with cheaper labor costs, resulting in a loss of 170,000 jobs on top of the more than 32,000 jobs already lost as a result of Hurricane Maria; and, a loss of over $2 billion in tax revenues, which represents about one quarter of Puerto Rico's tax revenues.

Puerto Rico is part of the U.S. and I ask you to oppose similar changes to the tax code that treats and penalizes Puerto Rico as a foreign country.

Congress must extend the Child Tax Credit to families of one and two children in Puerto Rico. Currently, families in Puerto Rico pay Federal payroll taxes which can be used to claim the Child Tax Credit if they have 3 children or more. Applying to Puerto Rico the same tax benefit available in the 50 states would help mitigate the economic losses of working families after Hurricane María and incentivize families with children to stay on the island.

Congress must allow Puerto Rico residents to claim the Earned Income Tax Credit. This measure will alleviate post-Hurricane Maria poverty by supplementing earned income and providing an incentive for people to join the formal economy as Puerto Rico recovers.

Disaster Relief

Physical damage and lost economic productivity in Puerto Rico as a result of María have been estimated as high as $95 billion. As a taxpayer and voter, I ask that Puerto Rico recovery be a priority.

Congress must appropriate sufficient funding to restore housing and businesses, reconstruct a stronger more resilient infrastructure that maximizes use of renewable energy, and jumpstart Puerto Rico's economy.

Congress must provide disaster assistance without putting Puerto Rico in debt by waiving the FEMA cost-sharing mechanism required to receive assistance programs and by forgiving FEMA Community Disaster Loans as it was done with Hurricane Katrina.

Congress must authorize FEMA to provide assistance under the Stafford Act without limitation of pre-disaster condition and causation. Federal dollars should not be used to restore Puerto Rico's deteriorated infrastructure, particularly its electrical grid, to its dysfunctional pre-hurricane condition. These funds should be used instead to build a resilient infrastructure.

Congress must waive the Jones Act for at least 2 years to lower the costs of all imported goods needed for the reconstruction of Puerto Rico.

Health Care

Congress must remove the cap on Federal Medicaid funds provided to Puerto Rico and make Puerto Rico residents eligible for the same Medicare benefits afforded to stateside seniors. The recent hurricanes have aggravated the pre-existing healthcare crisis and funding gap that will incentivize more Puerto Ricans to move to the mainland where they can receive full benefits.

Congress must temporarily increase the Federal Medicaid matching rate for Puerto Rico to 100 percent just as it was raised for the state of Louisiana after Hurricane Katrina. Puerto Rico does not have the capacity to provide matching funds to draw down Federal dollars under Medicaid.

By all measures, Hurricane Maria is an extraordinary event that cannot be solved by ordinary measures. The current arsenal of Federal programs will not suffice. We need to approach this crisis creatively, holistically and immediately.

As a constituent I ask that you let me know what you are willing to do for Puerto Rico.
Sincerely, YOUR NAME AND ADDRESS